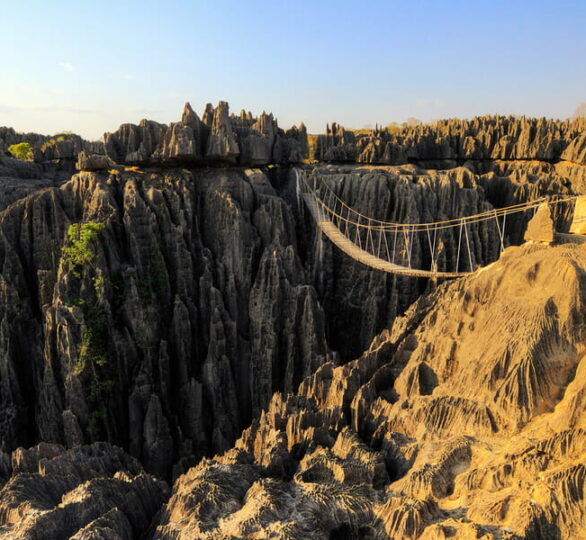 Touristic circuits
Wildlife and adventure tour
This twelve day Madagascar tour will lead you to the evergreen rainforest of Andasibe home of the largest living lemur called indri indri to the famous limestone pinnacles rock formation known locally as Tsingy of Bemaraha NP which is a UNESCO world heritage.
You will enjoy the boat trip to the Tsiribihina river where you admire the beauty of the nature as well as getting interact with local people + camping in the middle of nowhere at the river side of Tsiribihina. At the end of the trip; you will be at the avenue of baobab for an unforgettable sunset photos. Enjoy
Tour destinations
Tour destinations
Tana – Andasibe – Antsirabe – Miandrivazo – River descent – Belo – Bekopaka – Tsingy of Bemaraha –Bekopaka – Morondava – Tana
Programs
DAY 1 :
ANTANANARIVO or TANA
Arrival at the international airport of Madagascar, we will meet and welcome you at the airport of Antananarivo and will transfer you to your hotel. You will be briefed on your Madagascar guide at the comfort of your hotel. Overnight at your hotel on bed and breakfast basis.
Sakamanga hotel
Chalet de Rose hotel
La Villette Hotel
La Ribaudiere
We will meet you at your hotel after breakfast with your driver and an English speaking tour guide then proceed along the RN2 to the east of Tana. We will stop at Pereyras Reptile Reserve to spot reptiles endemic of Madagascar. This is a great opportunity to get up close and personal with these amazing animals!! Lunch in Moramanga after a further 40km of driving. Arrival in Andasibe late in the afternoon. Settle in the hotel. Possibility to go at a night walk to spot the nocturnal lemurs known as the smallest of the lemurs in the world. Overnight at your hotel on bed and breakfast basis.
Mantadia Lodge
Vakoana Forest Lodge
Andasibe hotel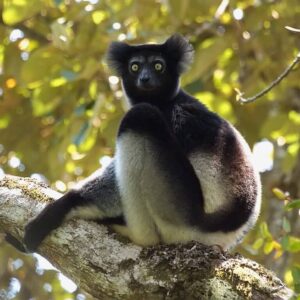 Andasibe-Analamazaotra national park is surely one of the most rewarding destinations. Frogs, reptiles and birds abound. However, on top of the bill is the indri, the largest of all living lemurs. These creatures sing a haunting song (reminiscent of whale song), which carries for miles across the forest. Afternoon visit of Vakoana Reserve known as the island of lemurs where you will get close to lemurs. Overnight at your hotel on bed and breakfast basis.
Mantadia Lodge
Vakoana Forest Lodge
Andasibe hotel
DAY 4 :
ANDASIBE - ANTSIRABE
Meet your driver and guide after breakfast and then continue to Antsirabe. Stop at Ambatolampy for a visit of a workshop working on recycled aluminum, a good example of Malagasy know-how and handicraft skills. Continue to Antsirabe; check in at the hotel upon arrival. Antsirabe is a thermal town also famous for the handicraft workshops. City tour to discover this former colonial town and its workshops. You can also go a little out of the city to the countryside to see its in-depth local life and markets. Overnight at your hotel on bed and breakfast basis.
Les Chambres du Voyageur
Arotel
La Residence Camelia
DAY 5 :
ANTSIRABE –MIANDRIVAZO
This morning, before heading west, we have the option of visiting a famous crystal factory in Antsirabe. The drive west will lead us to the hottest town in Madagascar, Miandrivazo, our starting point of the famous river descent of Tsiribihina. At Miandrivazo is a great market where you can purchase any last minute items you may need for our river adventure such as; hats, sunscreen or clothes. We will spend the night here before setting out on our river adventure!
DAY 6 - 7 :
RIVER DESCENT OF TSIRIBIHINA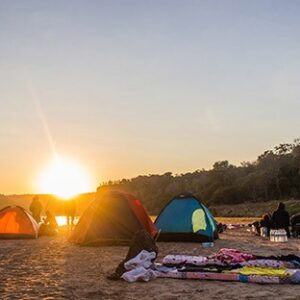 We begin our day on the river after a breakfast at Miandrivazo, a full day casually canoeing. After an early start, you will be able to relax and immerse yourself in the surroundings. The Tsiribihina River is one of the best places to enjoy the nature, bird life, animals and to observe how the locals go about their daily activity, always happy to see visitors passing by.
Each day will be filled with watching the wonders of birdlife, lemurs, bats, swimming in fresh water pools and waterfalls. Overnight at a campsite for 2 nights in full board
DAY 8 :
RIVER-BELO-BEKOPAKA
Today is our last day on the river. We will cross a ferry near Belo. We will arrive in Belo at noon. After lunch, a 4WD is waiting for us to drive us to Bekopaka. Overnight at your hotel on bed and breakfast basis
Soleil des Tsingy
Olympe du Bemaraha
DAY 9 :
TSINGY of BEMRAHA NP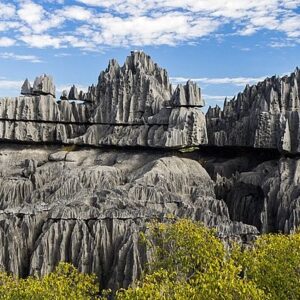 You will have a full day visit of the Tsingy of Bemaraha National Park. The spectacular mineral forest of Tsingy de Bemaraha stands on the western coast of Madagascar. Tsingy is the Malagasy word for "walking on tiptoes" and the nearly impenetrable labyrinth of limestone needles justifies this name. The whole protected area, designated a World Heritage Site by the UNESCO in 1990, comprises a surface of 1.575 km². This remote area was not a tourist trek until 1998, when the southern part (723 km²) was declared a National Park. The northern section is an Integral Reserve so tourists are not allowed to enter the zone. The reserve's canyons, gorges, undisturbed forests, lakes and mangrove swamps display an astonishing richness of fauna and flora which have not been completely recorded. The rate of endemism is about 85%, and 47% are even local endemic! The limestone seabed rose to create a plateau around 200 million years ago, which was little by little eroded by heavy rainfalls until it became its actual shape. This massif is delimited to the east by the abrupt Bemaraha Cliffs, which rises some 300 to 400m above the Manambolo River valley and extends several tens of kilometers from north to south.
The western slopes of the massif rise more gently, and the whole western region of the reserve forms a plateau with rounded hillocks which slope away to the west.
To the north undulating hills alternate with limestone extrusions, while in the south extensive pinnacle formations make access extremely restricted. In the south of Petit Tsingy is the spectacular Manambolo Gorge where you can see waterfalls, lemurs and magnificent untouched forests. Overnight at your hotel on a bed and breakfast basis
Grand hotel du Tsingy
Olympe du Bemaraha
DAY 10 :
BEKOPAKA-MORONDAVA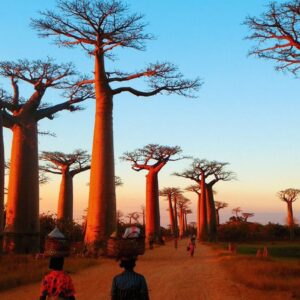 Depart Bekopaka in the morning and head to Morondava. Lunch in Belo again then continue driving till the avenue of baobab. Your Madagascar tour guide and your driver will stop at the Baobab Avenue for the sunset time. Baobab Alley is best visited around sunrise or sunset. This is because the softer lighting brings out the red tones of the tree trunks and makes for a splendid photo opportunity. Continue till Morondava. Overnight at your hotel on bed and breakfast basis.
Chez Maggie
Laguna Beach
Select hotel
We will offer a visit of the fishermen village of Betania in the morning then transfer to the airport of Morondava following your flight schedule to fly to Tana. Meet with your driver in Tana then transfer to your hotel. Overnight at your hotel on bed and breakfast basis.
Sakamanga hotel
Chalet de Rose hotel
La Villette Hotel
La Ribaudiere
DAY 12 :
INTERNATIONAL AIRPORT TRANSFER
Before we transfer you to the international airport of Tana, we will offer a free city tour depending your time. This can be the visit of the Lemur's Park located 23 Km West of Tana or the Queen's Palace located at 18 Km North of Tana following the shopping time at La Route Digue on the way to the airport. End of our service.
Included
Land transporting + fuel
Driver guide
Driver + his food & his accommodation
Park Entrances fees & guides
Night safari in Andasibe
Transfer airport/hotel /airport
Accommodations listed on the tour programme based on upper range Hotel in BB (bed and breakfast)
Half board in Morondava
Camping materials
Tax at Miandrivazo
Full board during the river trip  + mineral water
4WD during the Tsingy
Escort of an English speaking tour guide during the tour
Domestic ticket flight ( MOQ – TNR)
Excluded
lnternational ticket flight
Food & drink
Tips
Personal spending money
From 2 to 5 people
1385 €
per person
From 6 to 9 people
1185 €
per person
From 10 and more
1085 €
per person