Blog
The west of Madagascar : Baobab avenue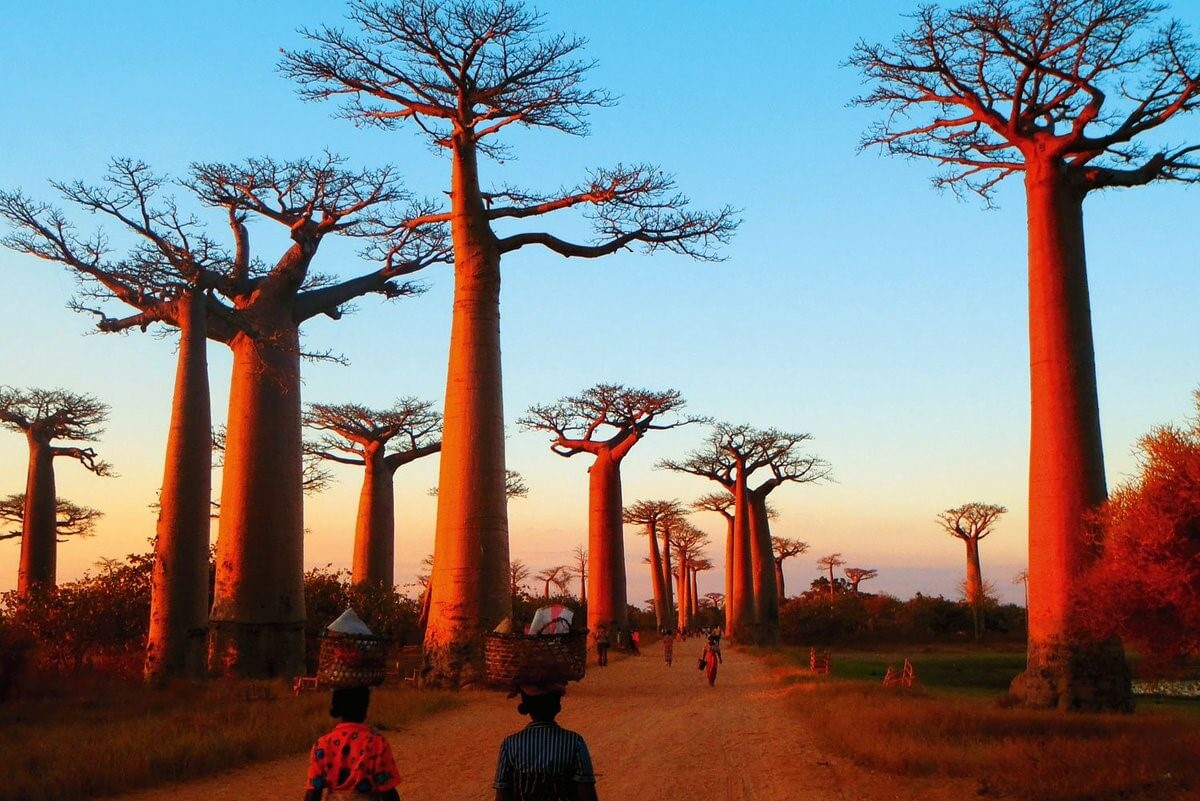 16 mars 2022
Are you planning to visit the West coast of Madagascar? Morondava? We highly recommend you to have a short detour at the stunning baobab avenue for sunrise or sunset photos. This natural avenue of imposing Grandidier's (baobab specie) is one of Madagascar's must-see sights. It is located some 45 minutes from Morondava. This is on the dusty track to Kirindy Reserve; Baobab Alley is best visited around sunrise or sunset. This is because the softer light brings out the red tones of the tree trunks and makes for a splendid photo opportunity.

Everyone who intends to visit Morondava is recommended to come and admire the alley of Baobabs. The sensation is the heights and sizes once you are there. You will admire the unique beauty of nature which is found nowhere else in the world. When you observe the baobab trees closely, you will notice their branches resembled to its roots and the trunks sometimes smooth and shiny during the sunset.

There are three different species of baobabs in Morondava, in particular the baobab in love that brings luck to the couples, the sacred baobab that the local inhabitants decorate with offerings, as well as the baobab Adansonia grandidieri which is endemic of Madagascar. The ritual requires you to stay until sunset. It is at the point that the show reaches its peak since the dusty landscape, the sumptuousness of the baobabs and the orange color of the horizon offer a breathtaking visual effect. Do not forget your camera to immortalize the moment.
A protected nature reserve
Since it was classified as a "Natural Monument" by the International Union for the Conservation of Nature in2007, Baobab Alley is now protected by several national and international organizations. Parking is open at the entrance of the site to avoid cars, parking anywhere in the driveway. Recently, it was planned that a small participation would be required to the visitors of the place. The goal is to save money to pay the premises responsible for maintaining the site.
How to get there?
There are three ways to get to the avenue of Baobab including the ground transfer from Tana to Morondava by stopping en route whether in the thermal town of Antsirabe or in Miandrivazo. This little farming town is known as the starting place of theriver descent of Tsiribihina which was recently a well known of tourist attractions. This one, needs more days to cruise down to the river and if you still have time, you can continue up North of Bekopaka to visit the UNESCO WORLD HERITAGE pinnacles rock formations or locally known as the TSINGY of Bemaraha for another three extra days; and the trip will end up to Morondava by stopping at the avenue of baobab for sunset photos. The third way is to fly from Tana to Morondava with Tsaradia Airline. Tsaradia (affiliate of Air Madagascar) operates a flight to Morondava four to five times a week.