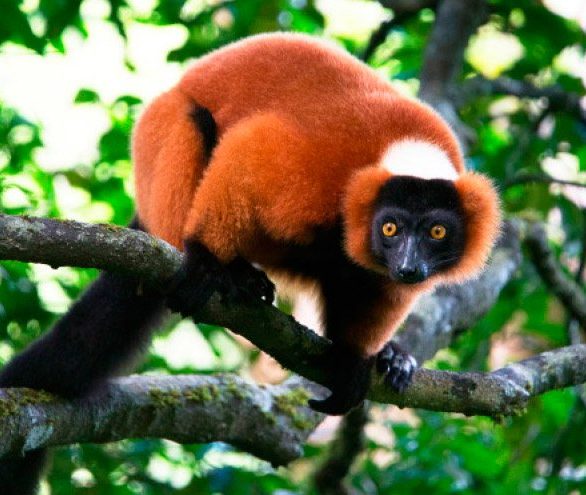 Touristic circuits
Masoala Expédition
Explore the pristine rainforest of Andasibe located in the East of the capital of Madagascar with its endemic world largest lemur. Enjoy the colorful architecture of Antananarivo with its Royal palace monuments and immerse yourself at the lush primary forest of the peninsula Masoala with its endemic animals.
Highlights:
Largest living lemur at Andasibe NP
Colorful chameleons at the private reserve of Pereyras
Beach at Nosy Be
Tour destination
Tour destination
Tana – Andasibe – Tana – Maroantsetra – Masoala – Mangabe – Tana
Programs
DAY 1 :
ANTANANARIVO or TANA
Arrival at the international airport of Madagascar, we will meet and welcome you at the airport of Antananarivo and will transfer you to your hotel. You will be briefed on your Madagascar guide at the comfort of your hotel. Overnight at your hotel on a full board basis.
Radisson Blu Hotel
Tamboho suite
La Varangue
Maison Gallieni
We will meet you at your hotel after breakfast with your driver and an English-speaking tour guide then proceed along the RN2 to the east of Tana. We will stop at Pereyras Reptile Reserve to spot reptiles endemic of Madagascar. This is a great opportunity to get up close and personal with these amazing animals!! Lunch in Moramanga after a further 40km of driving. Arrival in Andasibe late in the afternoon. Settle in the hotel. Possibility to go at a night walk to spot the nocturnal lemurs known as the smallest of the lemurs in the world. Overnight at your hotel on a full board basis.
Mantadia Lodge
Manjarano Lodge
Vakoana Forest Lodge
Andasibe-Analamazaotra National park is surely one of the most rewarding. Frogs, reptiles and birds abound. However, on top of the bill is the indri, the largest of all living lemurs. These creatures sing a haunting song (reminiscent of whale song), which carries for miles across the forest You can also find another species of lemurs such as bamboo lemur, brown lemur; diademed sifaka and other animals such as chameleons, giraffe necked weevil. Visit of the private reserve of Vakoana in the afternoon to watch lemurs up close. Overnight at your hotel on half-board basis.
Mantadia Lodge
Manjarano Lodge
Vakoana Forest Lodge
Before we continue back to Tana, we offer a last chance to visit the community run reserve of VOI to spot the largest living lemur. After lunch, drive back to Tana.  Overnight at your hotel on a full board basis.
Radisson Blu hotel
Maison Gallieni
Tamboho Suite
La Varangue Hotel
DAY 5 :
TANA-MAROANTSETRA-MASOALA (Private Flight)
Your Masoala Adventure fly-in package starts in Antananarivo. You are welcomed by your pilot at the charter company's reception. With no check-in and wasted time, this is a tranquil and hassle-free start to your adventure. After an approximately 1,5 hour flight with magnificent views of the rugged hills and rainforests of eastern Madagascar, you descend over Antongil Bay and land at the airport of Maroantsetra.
You are met by our staff on arrival and transferred to our private boat for the short ride to the island of Nosy Mangabe. Once ashore, explore the densely forested island with your guide on a network of trails providing a chance to spot Black and White-ruffed lemurs, White-fronted Brown lemurs, and leaf-tailed geckos.
After a picnic lunch on the beach, you embark on a second boat trip across Antongil Bay to the Masoala Forest Lodge. During this approximately two hour journey, enjoy the dramatic rainforest backdrop along with the possibilities of dolphin sightings and, seasonally, whale sightings (July-October).
Once you have settled comfortably into your bungalow, meet the other guests for sundowners around a fire on the beach. After dinner, your guide meets you to discuss possible excursions for day 2. Speed boat transfer to your hotel. Check in at your Lodge on full board basis
Awaken early for coffee and breakfast on the sea deck before setting off on the day's adventure.
Today, take a quick boat ride up the coast to the primary rainforest in search of the Red-ruffed lemurs, Dwarf chameleons, Helmet Vangas, and other wildlife endemic to the forest.
After some hours in the dense forest with the giant hardwoods and majestic tree ferns, return to camp by boat for a well-earned lunch and rest.
Your afternoon activities could range from snorkelling on the nearby, highly diverse coral reefs to a sunset paddle out to a scenic outlook (and the chance of a close encounter with Green Turtles) to relaxing in a hammock underneath our beach-front palm trees.
After dinner, a guided night walk provides the only opportunity to spot some of the secretive nocturnal wildlife, such as Dwarf and Mouse lemurs, Leaf-tailed geckos, or even the elusive Aye-Aye.
A relaxed start to the day and breakfast on the sea deck.  Depart on a guided walk through the coastal forest, in search of more birds, mammals and reptiles. After a couple of hours walk, take a welcome swim in the crystal-clear water of the Tampolo Cascades at the base of the forested mountains. On your way back to the lodge, our staff paddles you down the serene, shady Tampolo river in a traditional dugout canoe. In the afternoon, take a short walk along the coast to the nearest village for our "Meet the People" excursion. Start with a visit to the village school that is supported by the lodge. Continue with a guided tour of Ambodiforaha village for a window into local rural life followed by a traditional song and dance performance by the ladies of the village. If interested, you can bring some small money with you to purchase handicrafts and locally-produced spices. Continue your Malagasy cultural education back at the lodge with delicious traditional Malagasy dishes served for dinner.Try your luck again spotting elusive nocturnal species on a private reserve night walk.
Breakfast on the sea deck.
Traverse the unusual rock formations of Tampolo point by kayak. Stop for a swim on the beach at the "Sacred Island" and then continue your paddle into a pristine mangrove and forested river, with the chance of spotting Blue-spotted stingrays in the shallow water or perhaps the Lesser Bamboo lemurs crossing the river.
Paddle back to the lodge for lunch and spend another afternoon lounging in our beach hammocks or exploring the lodge's various reefs.
Sundowners around the fire on the beach and dinner in the lodge.
DAY 11 :
MASOALA-MAROANTSETRA-TANA (Private Flight)
Private flight charter to Tana. You will meet and greet by your Gassitours' crew upon arrival at the airport of Tana then transfer to your hotel. Overnight at your hotel on a full board basis.
Radisson Blu hotel
Maison Gallieni
Tamboho Suite
La Varangue Hotel
DAY 12 :
INTERNATIONAL AIRPORT TRANSFER
City tour of Tana and shopping time for a great souvenir of Madagascar. Transfer to the international airport of Antananarivo. End of our service.
Interested in This Tour, get a free quote
Included
Land transporting + fuel
Driver +his food and accommodation
Escort of an English-speaking tour guide
Park entrance fees and private reserve fees
Mineral water
Local guide fees
All night walk in Andasibe and at Masoaloa
Transfer airport/hotel /airport
Accommodation listed on the tour program on full board basis
City tour of Tana
Round private charter flight to Maroantsetra
Round speed boat transfer from Maroanstetra to Masoala
Excluded
International ticket flight
Gratitude
Personal spending money
Drink
Please e-mail us at
info@gassitours.com